The Latest Verkada News

Product and Solution Information, Press Releases, Announcements
Announcing Offline Mode: Hybrid Cloud with No Compromises
Posted: Wed May 08, 2019 08:15:16 PM

Verkada has pioneered the Hybrid Cloud architecture that has revolutionized enterprise video security. Taking advantage of storage on the device and the accessibility of the cloud, Verkada's Hybrid Cloud architecture cuts costs, simplifies deployment and management, and paves the way for advanced computer vision functionality. However, customers have often faced a tradeoff – the simplicity of hybrid cloud vs. the (perceived) reliability of legacy systems.
Today, we are excited to announce the next major capability that is unlocked by our approach – Offline Mode. Offline Mode allows customers to continue to securely view live video streams even when they lose their internet connection, ensuring that customers can confidently choose Hybrid Cloud without compromise. Offline Mode works on web browsers (Chrome and Firefox) and AppleTV and delivers excellent reliability and video quality with low latency.
Key Benefits
Reliability: For use cases that require "always-on" connections, such as patient monitoring, entry/exit monitoring, and video walls, Offline Mode provides a highly reliable, persistent connection to the camera.

Bandwidth usage: Offline Mode is built on Verkada's Local Stream, transmitting data over the LAN without impacting WAN bandwidth utilization. As always, thumbnails and metadata continue to be sent over the WAN.

Latency: Offline Mode leverages Verkada's Low-Latency Stream to deliver near real-time (~1-2s delay, depending on network capacity) viewing.

Security: Offline Mode requires authentication to the cloud-based Command system, ensuring only users with appropriate privileges are able to view streams. In addition, Offline Mode requires installation of certificates on the viewing device, delivering secure SSL connections between the browser and camera, even without an internet connection.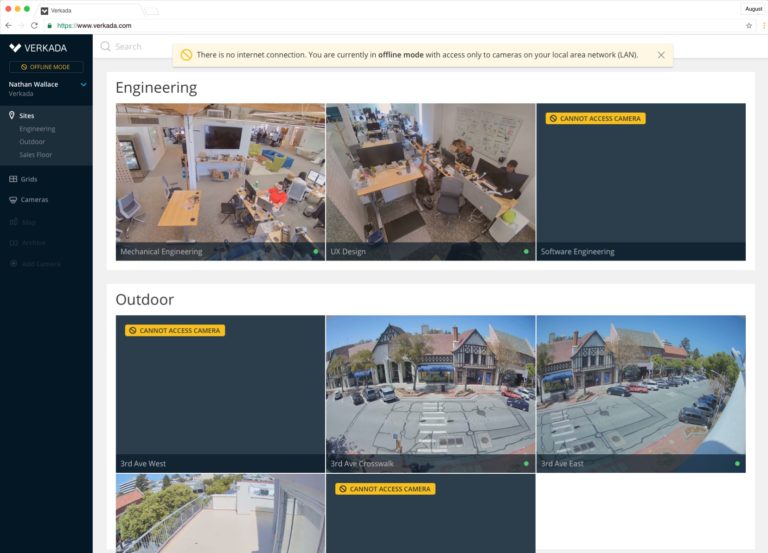 Offline Mode With Cameras On A Different LAN
How It Works
Offline Mode is built on Verkada's Local stream, delivering great image quality, low latency, and limited bandwidth utilization. Command establishes a connection to the cloud to authenticate the user's session and then maintains the stream over the local LAN, even when the internet goes down. When the Command application detects that the internet connection has been lost, it automatically attempts to fail over to Offline Mode. If a user were viewing live video in HD, for example, Command would fall back to the Local stream in Offline Mode without the user needing to intervene. Command will notify the user that it has gone into Offline Mode, and some controls (History Page, Motion Search, etc.) will be disabled. Users can view live streams on all cameras that are accessible on the LAN, switch between the Sites, Cameras, and Grids pages, and Logout of the application. Once Command detects that internet has been restored, it will automatically revert to normal operation.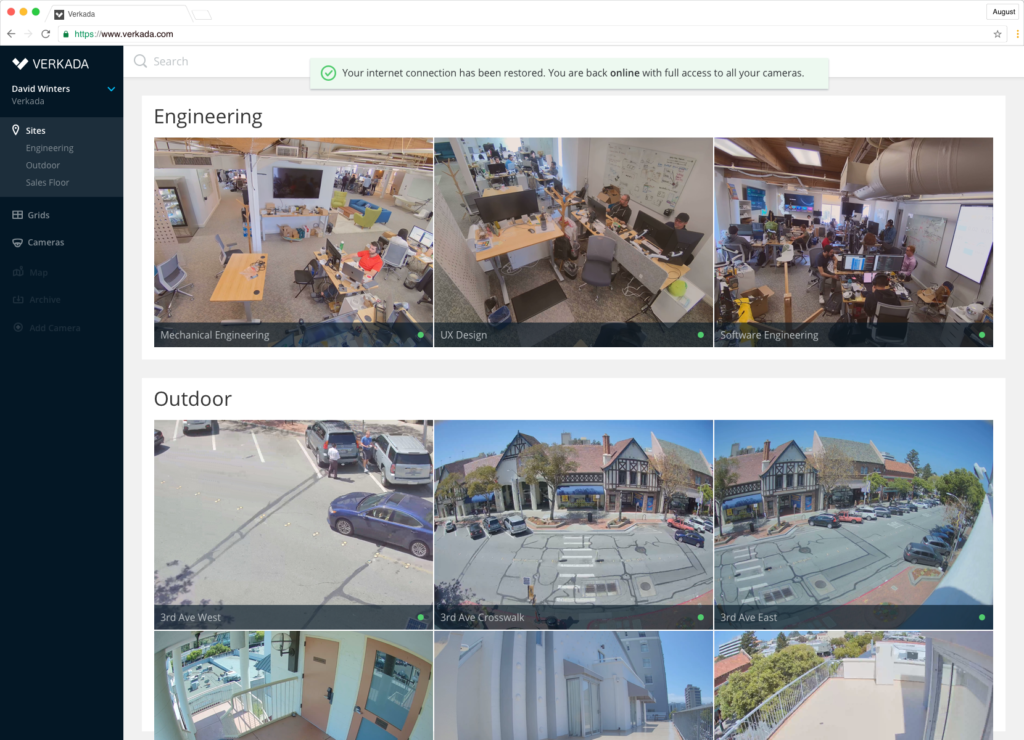 Online Mode Restored
Setting Up and Testing Offline Mode
Offline Mode is easy to set up. Now that Verkada has enabled Local viewing on all cameras, users simply need to install a security certificate on each device and browser they use to access Command. For example, if a user accesses Command from a desktop and laptop via Chrome, he or she would need to install certificates on both devices. Note that Offline Mode is currently supported on Chrome and Firefox for desktops and laptops, and on AppleTV. Users can follow the prompts to install certificates in their Settings. For more information, please visit our Knowledge Base.
Offline Mode requires that the camera is on the same LAN as the viewing device and that security certificates are installed. Users can confirm that devices will be viewable in Offline Mode using the "Test Offline Mode" feature in Settings. Users can confirm that they have properly installed certificates and check that cameras are accessible in Offline Mode. Verkada strongly recommends regularly testing the accessibility of cameras in Offline Mode as part of your organization's emergency response procedures.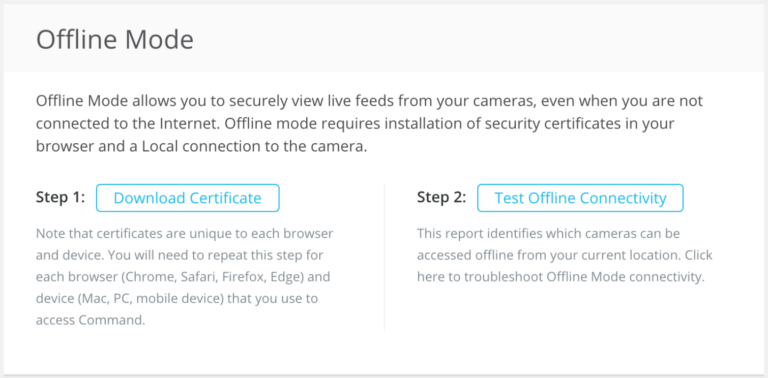 If you are a current Verkada customer, this feature is now live in your Command software. To install security certificates, click on Settings, and then click on the "Install Certificates" button in the Offline Mode section. You can test the reachability of your cameras by clicking on "Test Offline Mode." Learn more about Offline Mode in our Knowledge Base.